A Digital Era for Transport – a personal view of the TRA Committee Chairs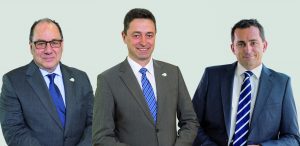 The TRA is organised by three committees, the management committee, the programme committee and the organising committee, which are chaired by the host country. We spoke with the current chairs about their vision for TRA2018, upcoming highlights and goals for the Transport Research Arena.
Mr. Schädler, you are the Chair of the TRA2018 Management Committee and Head of the Innovation Unit at the Austrian Ministry for Transport, Innovation and Technology. Why did the Ministry apply to be host of TRA2018?
Schädler: Transport is one of the key factors of Austrian industry. From the governmental side we have a long tradition in research funding. As TRA is the biggest research and technology conference on transport and mobility in Europe, it was an easy decision to apply and try to bring TRA to Vienna in order to make research visible – also to the public – and give showcases the possibility to present themselves.
Mr. Chimani, as Chair of the Programme Committee and Head of Center for Low-Emission Transport at the Austrian Institute of Technology, you are responsible for shaping the programme for TRA2018. So, why does TRA2018 focus on digitalisation?
Chimani: Digitalisation as a mega trend is changing our society at tremendous speed. This is especially true for our transport systems providing technological basis to tackle todays transport challenges of goods and humans.
So, what does the motto "A digital era for transport" mean to you? Mr. Russ, as Chair of the Organising Committee and CEO of AustriaTech, tell us about its importance and your view on the TRA2018 motto.
Russ: In this case, digitalisation is a synonym for integrated mobility and services. "A Digital era" does not only mean to install new digital layers, but to digitalise all our physical assets and combine them in an interoperable and integrated system. It all starts with open data that enables transparency on responsibilities, impact and benefits.
From your point of view, what makes the TRA2018 unique and who should attend?
Chimani: TRA covers the major fields of our transport system, including all transport modes, latest technologies, socio-economics and politics. From my point of view Transport Research Arena 2018 will be an arena gathering transport expertise from research, industry and politics stimulating debates necessary for sustainable design of our future of transport.
What is your major objective regarding the TRA2018 Conference?
Russ: The main objective is not only a conference, but to provide an open arena. We are not only presenting high quality science and technical insights, but we see TRA as a major element for the continuous improvement of technological options and policy visions in transport. So it is about to show not only amongst researchers and scientists that research matters, but to communicate and disseminate the major findings to policy makers and the general public.
What is the Austrian contribution, to make this event special?
Schädler: Due to our joint effort, all transport modes – including aviation – will be represented at TRA for the first time. Together with the European Commission and the new collaboration networks about getting established with TRB and ITS Japan and Korea we want to carry on this conference on the next level to develop it from a European to a transcontinental event, showcasing Europe.
Last updated : 28/02/2017