Highlights from the TRA2018 conference programme – Day 3 – Decarbonisation
Sessions of day 3 at TRA2018 focused on the challenges and opportunities of decarbonising transport and mobility. Decarbonisation strategies for 2050 and potential pathways of adopting alternative fuels and increased energy efficiency in both personal mobility and freight transport were discussed to reduce the greenhouse gas (GHG) emissions from the transport sector, which are still rising, in contrast to the emissions from other sectors.
Across all sessions, the urgency of decarbonisation was acknowledged and the potential of different developments and trends like e-mobility, sharing mobility and active mobility discussed. The panellists, speakers and audience stressed the necessity of multimodal, seamless door-to-door travel within the concept of "Mobility as a Service" through the establishment of all-encompassing mobility platforms and debated whether they should be operated by public or private institutions.
The importance of socio-demographic factors
The session participants clearly stated that the public sector needs to take the initiative and define a coherent legal framework and determine clear emission targets. The private sector needs a coherent framework for strategic decisions, so they can provide the technology and develop the processes to meet those targets and contribute to the decarbonisation of transport.
However, relying on technological solutions and efficient vehicles alone will not suffice: socio-demographic factors need to be considered and mobility behaviour needs to change. This particular aspect was emphasised in numerous sessions.
It was agreed that adherence to a strict decarbonisation path is necessary if the goals of the Paris Agreement are to be met. Starting this process is very urgent, as the decarbonisation goals can only be met with very disruptive measures if we wait until 2025. Therefore, the focus in the upcoming research programmes and administrative agendas has to be set on decarbonising transport and the economy.
"If decarbonisation does not fully start before 2025, it will be literally impossible to meet the Paris Agreement goals.", stated Hans Joachim Schellnhuber, (Director of Potsdam Institute for Climate Impact Research) [Plenary 4]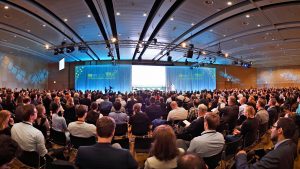 Last updated : 04/06/2018