The importance of TRA for DG RTD of the European Commission
The European Commission Directorate-General for Research and Innovation (DG RTD) develops initiatives and supports policies aimed at encouraging excellent research and boosting innovation to create growth and jobs, while addressing our biggest challenges. One of the core R&I areas is transport, the backbone of our economy and society. In fact, in the coming years  transport is expected to become more resilient, resource-efficient, climate- and environment-friendly, safe and seamless for the benefit of all citizens, the economy and the society. To this end, actions are required at both European and international levels: no national government can address them alone successfully. We spoke with Clara de la Torre, Director for Transport at DG RTD, about the Transport Research Arena 2018 (TRA 2018) in Vienna.
What was your first TRA experience?
I have seen TRA growing and evolving in its content and ambitions. TRA is an arena where key transport R&I challenges are discussed and cooperation opportunities further developed. My first experience dates from 2016 in Warsaw, which I found very interesting. Now I am pleased to see that, since then, our efforts to broaden scope and to make TRA a truly multi-modal arena are bringing results.
From your point of view, what makes TRA 2018 special?
TRA 2018 addresses major issues ranking high in the transport R&I agenda – i.e. digitalisation and greening – and putting a special focus on the user needs. In this respect, TRA 2018 will contribute to supporting a social-fair transition towards a clean, connected and competitive transport. Rather than say "what makes TRA special", I would say "what is new in this TRA 2018": for the first time, aviation R&I is fully integrated in the programme, thus showing the new way for cross-fertilisation opportunities. I would also mention the added value brought by the European Innovation Council (EIC) Pilot, given the crucial role played by SMEs in the transport sector. In fact, TRA 2018 will also offer an arena for networking top-class innovators and small businesses with investors and major stakeholders. I am also proud to see that the weight of students and researchers is getting stronger in each TRA edition. Besides our TRA Visions initiative, the presence of beneficiaries of the two main European funding initiatives for professional researchers – namely the Marie Skłodowska-Curie actions (MSCA) and the European Research Council (ERC) – will offer students and researchers attending TRA 2018 the possibility to discover and know more about the vast array of European funding opportunities covering research in transport as well.
What do you expect from TRA 2018?
When I see the TRA 2018 three thematic pillars "How digitalisation is transforming transport and mobility systems", "Decarbonisation and future growth – how to change our mobility system and remain competitive" and "Shaping the new mobility landscape – a vision for transport and mobility for Europe", I immediately see this conference shaping the future transport R&I strategy at the European Union level. In this respect, I hope that major policy messages can and will be brought at the highest political level for adequate discussion and eventually for implementation.
What does "A Digital Era for Transport" mean to you?
It evokes a new dimension where working together with Member States and world partners, policy makers, transport industry and researchers, operators, planners and users, is key to ensuring a sustainable, inclusive and affordable mobility.
In order to stay clean, competitive and efficient, Europe has to make the best of the current wave of digital innovation. Its transport sector needs to take advantage of the opportunities created by digital technologies and automation for its society, environment and economy. Big data, the Internet of Things (IoT) and Artificial Intelligence provide opportunities for new mobility solutions for citizens and freight as well as new and broader markets for European enterprises.
For this reason, I warmly invite everyone to attend TRA 2018 and bring her/his personal insight to all the inspiring discussions taking place there, which I hope will help to pave the way to a truly new era for transport.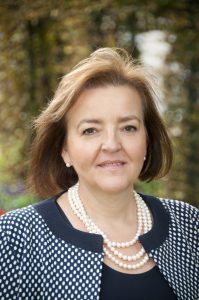 Clara de la Torre, Director for Transport at DG RTD
Last updated : 13/03/2018