TRA as Green Event
Due to the thematic orientation of the TRA and the general goals outlined by the Federal Ministry for Transport, Innovation and Technology (bmvit) and AustriaTech, it is obviously sensible to set up this event as a Green Event. Therefore the TRA will give an important contribution to Corporate Social Responsibility regarding such a big international event. The TRA 2018 would be one of the first green events of this size.
A "Green Meeting" is characterised by higher energy efficiency, waste avoidance and environmentally benign travel of the guests to and from the event. Also aspects of regional added value and social responsibility are taken into account. In the process of planning and implementing an event, criteria from the following fields are taken into account:
Offers of environmentally sound mobility as well as CO2 reduction
Environmentally-friendly accommodation
Requirements on the conference venue, the catering and any exhibitions
Environmentally friendly procurement, material and waste management as well as technologies
Social aspects, communication
Selectable optional criteria take account of the specific situation like the size, offer, equipment or location. In this way also special priorities, for example in connection with organic food or offers for barrier-free facilities, are rewarded. The Austrian Eco-label is an initiative of the Federal Ministry of Agriculture, Forestry, Environment and Water Management. The Guideline was worked out by the Consumer Information Association, VKI, in cooperation with the congress and event industry, the relevant stakeholders and environmental experts.
You can calculate your CO2 emissions and contribute to environmental protection by donating to environmentally friendly projects. These CO2 emissions can easily be calculated with the myclimate carbon footprint calculators: http://www.myclimate.org/, https://www.atmosfair.de/de/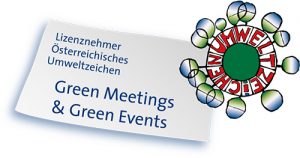 Last updated : 04/04/2018