Welcome to Vienna
Vienna is Quality of Life. What the Viennese have long known to be true is also officially confirmed: In 2016, the Mercer Study voted Vienna the world's most livable city for the seventh year in a row. According to the "Smart Cities Index" of US climate strategist Boyd Cohen, Vienna is currently in third place in Europe and therefore near the top of the list of the most innovative, environmentally friendly and sustainable cities.  The ranking also attests to the city's pioneering roll in matters of urban development.
Vienna & history
Vienna is imperial. Viennas historic city center is a UNESCO world cultural heritage site. Vienna boasts 27 palaces and 163 other residences. A trip around Vienna's magnificent Ringstrasse boulevard is always a special sightseeing experience whether you are on foot or taking a ride in a traditional fiacre. At Schönbrunn the imperial family had 1,441 rooms to choose from, many of which are open to visitors. The Schlosspark contains a number of architectural masterpieces such as the Palm House and the zoo, which has already been crowned Europe's best four times. St. Stephen's Cathedral is at the religious and geographical heart of the city and the giant Pummerin bell features on television as it rings in the New Year.
Vienna & Culture
Vienna is Culture. The Albertina, a venerable palace, houses one of the most important art collections in the world. "Major" exhibitions take place here, and the museum's own collection is spectacular, with names such as Matisse, Renoir and Miro. The Kunsthistorisches Museum Vienna on the Ringstrasse is devoted to Old Masters. Art treasures from all the key eras are on display here, in particular examples from the Renaissance and Baroque periods by Rubens, Titian, Rembrandt and Raphael. The museum also holds the world's largest collection of works by Bruegel. Renowned 20th century artists are represented at the MuseumsQuartier. Built by Baroque architect Fischer von Erlach, the former court stables now host a whole new district. The courtyard is once again brimming with life thanks to the Leopold Museum – the Schiele collection is world-renowned – the Museum Moderner Kunst (mumok), Kunsthalle Wien, Architekturzentrum, Designforum, and various shops, cafés and restaurants.
See the preview of the cultural programme in Vienna during TRA 2018 in April: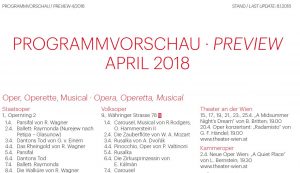 Find out more about Vienna:
Last updated : 21/03/2018