Infrastructure & Asset Management will be another exciting thematic field represented in the Interactive Zone!
Transport Infrastructure needs to be flexible in use and easy adaptable in order to manage the rising demand on existing transport and to guarantee constant functioning of transport services. It is the foundation of any traffic system and a fundamental enabler for new sustainable mobility services.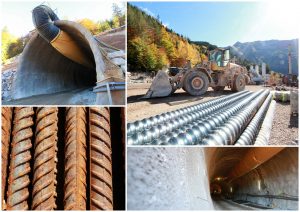 © Montanuniversität Leoben
Showcases forming this thematic area are:
"VVAC+" shows innovative ideas and approaches of industrial partners, who bring experience in key railway technologies. An interactive rail demonstrator creates a visualization of the wheel – railroad track contact and the respecting effects depending on the adjustments.
"TUSI- Tunnels Safety in Construction and Operation" offers you an insight in the diverse solutions of companies involved in planning, construction and operation of tunnel structures. A realistic tunnel model is going to be presented in the Interactive Zone displaying the infrastructure technology of the future.
Don't forget to register for the Transport Research Arena 2018 and visit us in the Interactive Zone!
Last updated : 21/03/2018