The next thematic field of the Interactive Zone is ready to be presented!
Three showcases in the field of Automated & Connected Transport are going to present state of the art research in one of the most promising trends regarding future mobility. Automation and the connectivity of vehicles and infrastructure enable a wide range of potential benefits, such as increasing road safety, efficiency and competitiveness.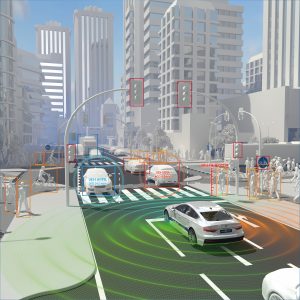 Take a look at the showcases taking part in experiencing the future of our mobility system at the TRA2018 Interactive Zone:
"Virtual vehicle" presents an electric vehicle with ADAS functions implemented. An ADD Onboard Monitor shows what HD cameras, radar sensors and object analysis detect. In addition it demonstrates how Advanced Control, Driving Monitoring, Collision Detection and Self-Diagnostic work and is being researched.
"SilkRoad 4.0" is a media initiative broadcasting how European research eases long distance travel adventures and exhibits their motorcycle of choice to travel 10.000km of rough terrain along the Silk Road as well as emotion trackers, advanced health monitors or crash detection systems for motorcycles.
"Digibus" is going to present test drives with the Digibus, an EZ10 autonomous shuttle from EasyMile. Sensor data from the shuttle will be transmitted in near real-time to the Interactive Zone where excerpts from the control center or videos from the inside of the shuttle can be viewed.
Don't forget to register for the Transport Research Arena 2018 and visit us in the Interactive Zone!
Last updated : 21/03/2018