Marketplace
TRA 2018 offers an arena for researchers, scientists and engineers, companies and public authorities active in the field of transport. It welcomes policy makers and stakeholders framing research and transport policy. To this end, a MARKETPLACE will take place at the Exhibition Area (Hall A), booth B02. Here, throughout the whole duration of TRA, participants will find animation and interactive events:
Marketplace Posters
From Mon, April 16th to Thu, April 19th Marketplace Posters (MPP), selected through a dedicated Call, will show innovations and solutions with high market relevance and implementation potential.  For the whole duration of TRA2018, you can enjoy them and learn more about. Go to Marketplace in the Exhibition Area and you will find them around its walls.
Day 1, Monday, April 16th: SME-Instrument – Business Acceleration Services Event
SME Instrument – Business Acceleration Services event: The European 'SME Instrument' has selected world-class innovation companies for a dedicated matching with new financial and business partners. Join in and become partner of the 'SME Instrument' in one of our pitching or networking sessions. What are you waiting for? Time has come to leave your competition behind!
NEW! The European Investment Bank will be there too to present the results of the report "Access-to-Finance Conditions for Innovative Road Transport"? Don't miss it!
Programme available here.
Day 2 – 4, Tuesday till Thursday, April 17th – 19th: ETNA2020/EEN Networking and Brokerage Event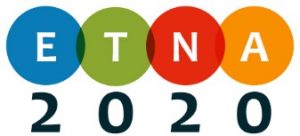 ETNA2020/EEN Networking and Brokerage Event: the EU-funded project ETNA 2020 will organise – jointly with Enterprise Europe Network (EEN)  – a Networking and Brokerage event focusing on topics covered by the Horizon 2020 Transport Work Programme 2018-2020. Here,
Participants looking for partners to apply to the calls published in the Transport Work Programme 2018 will have the opportunity to present their organisation and ideas for project proposals in two different ways:
a) In the form of a brief oral presentation – pitch – of 15 minutes max., using templates specially designed for this purpose.
b) By participating in bilateral meetings – B2B – of max. 20 minutes.
Participants will have the opportunity to learn about how to take advantage of the ETNA 2020 Partner Search Services. Participants will have the opportunity to get to know the system in real time, create a new user and receive personal training on how to use and find partners on the system.
Last but not least, participants will have the opportunity to attend the ETNA 2020 Workshop on international cooperation 'Taking advantages to expand your Transport R&I activities outside of Europe'.
Registration to TRA Conference 2018 is a pre-requisite for participation in the Networking and Brokerage Event. Without confirmed registration to TRA 2018, those interested in the ETNA 2020/EEN event will not have access to the stand.
Draft programme and registration to the Networking and Brokerage Event available here. You can register for the event till 27th of March.
Details for "Day3" with the workshop on international cooperation: Focus on INCO flagship initiatives and the twinning mechanisms
Wednesday 18th April, 10.00 – 12.00 – Pitching zone:
Opening and Introduction – Miriam DE ANGELIS, ETNA2020 coordinator
ETNA2020: the network of Horizon2020 SC4 National Contact Points – Miriam DE ANGELIS, ETNA2020 coordinator
INCO flagship initiatives and the twinning mechanism – Frank SMIT, Policy officer, European Commission, DG Research & Innovation
Twinning mechanisms: Advices for a successful proposal – Louise MOTHERSOLE, ETNA 2020 member, UK NCP
Example of a successful twinning project: The InterAct Project (twinning with AVintent) – Anna SCHIEBEN, Coordinator of the InterAct Project, DLR, Germany
Last updated : 12/04/2018