Silkroad 4.0 Showcase Ambassador for TRA2018: Adventure meets technology
"To bring technology from all over Europe, give it a stage and show what is already possible," says Philipe Reinisch as he describes the mission of the Silkroad 4.0 project. "And to show when and where the latest technology is already being featured," adds Rheinisch the initiator of the project. With Silkroad 4.0, Philipe Rheinisch and a co-adventurer Lena Otter will carry out a 10,000-kilometre journey by motorbike along the Silk Road from Austria to China during 2018. To do this, they will equip themselves and their motorbikes with the latest European technology. Technology partners are in the process of introducing new technologies for this journey, ranging from apps that can simplify your life during the trip to innovative vehicle technologies.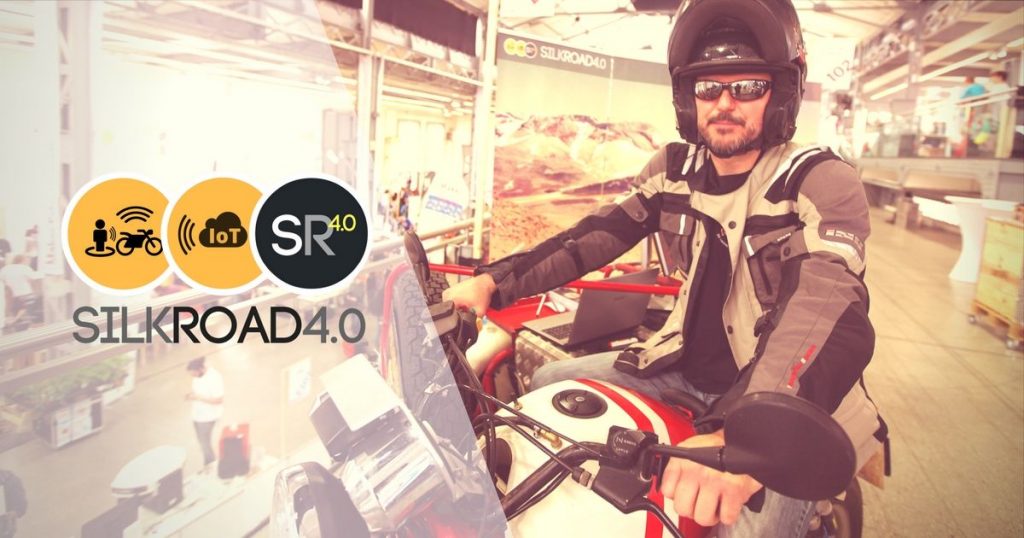 On their way through 15 Central Asian countries, both adventurers will focus on the exchange of knowledge and cooperation in the areas of the Internet of Things (IoT) and Industry 4.0 to promote digital technologies in addition to other various travel experiences. They will also visit the most important industrial and academic points of interest along their route to open doors for future alliances.
Silkroad 4.0 and Transport Research Arena (TRA)
This is where the link to the Transport Research Arena (TRA) – the largest transport research conference in Europe – comes in. As you already know, TRA takes place every two years in Europe and Vienna will be the venue and Austria the host country in 2018. The motto of the conference is also at the core of the Silkroad 4.0 mission in 2018: a digital era for transport. Solutions for society, economy and environment. Some 3,000 international experts will meet at TRA to discuss developments in mobility and the latest research results. TRA aims to be an open discussion arena, which is why a focus in Vienna will be placed on demonstrations and showcases with the TRA Interactive Zone to present European research and technology competences.
With Silkroad 4.0, Rheinisch demonstrates the "digital era for transport" on two wheels and combines technology with adventure. He will be both a kind of "roving showcase" for TRA2018 and a "TRA Showcase Ambassador". The Silkroad 4.0 tour itself starts in April 2018 at the same time as TRA2018 in Vienna. Preparations will already start in August 2017: the two adventurers will carry out a two-month pre-tour through Europe, where, as TRA Showcase Ambassador, they will visit innovative European experts on site and question the topic of digitalisation in transport. The results of the interviews will be presented at TRA2018.
"Information technologies and traffic are developing so quickly as a result of the increasing digitalisation. Complexity is continually increasing through technological networking. Only with integrated and cooperative approaches can the people and society be prepared for the future", says Rheinisch. "Exactly this effort to connect Europe and work together on innovations leads to such project cooperation opportunities as TRA2018 and Silkroad 4.0. Ground-breaking technologies are to be used as far as possible in the transport system. Research and development provide essential foundations and evidence to tap into new markets, increase value while taking into account user requirements. However, research also underlines important policy goals such as decarbonisation or traffic safety," emphasises Martin Russ, Chair of the TRA Organising Committee and Managing Director of AustriaTech.
You can contribute to silkroad 4.0 with your technologies. For more details, see http://www.silkroad40.com/iot-challenge/.
About Silkroad 4.0
At Silkroad 4.0, adventure will meet technology. Philipe Reinisch and Lena Otter will drive their motorbikes some 10,000 km along the Silk Road. Both they and the bikes will be equipped with the latest technology. The tour will start in April 2018 from Vienna. In the summer of 2017, the pre-tour will begin in Europe, where the two adventurers will meet up with technology experts. Silkroad 4.0 will present products and solutions of real life brand-new technologies and link Europe and its innovations.
More details about the Silkroad 4.0 project can be found at www.silkroad40.com.
Contact: philipe.reinisch@silkroad40.com.
About Philipe Reinisch, initiator of the Silkroad 4.0 project
Philipe Reinisch works as interim project manager and turn-around manager for important projects, in addition to his role as co-founder of IoT Austria and co-chair of the Joint Working Group "Internet of Things" of the Austrian Standards. He has many years of experience in projects at Accenture, METRO, Industrial Associations and Zurich insurance company. He has also founded the IoT Jobs initiative, which brings together IT experts and experts in the field of IoT and Industry 4.0 with project managers and employers. He is a passionate long-distance motorbike traveller.
For more information about Philipe Reinisch, please visit:
www.xing.com/profile/Philipe_Reinisch
at.linkedin.com/in/preinisch
Last updated : 07/07/2017