TRA 2018: Pupils design their future means of transport
To mark the occasion of the largest European transport research conference, the Transport Research Arena (TRA 2018) from 16-19th April 2018 in Vienna, workshops with students will take place in cooperation with the Austrian ScienceCenter-Network (SCN). Five school classes are considering the mobility of the future: What does a future means of transport look like, what will it have to do, who will the users be, which materials will be used for construction and where will the energy come from? At the TRA 2018 event itself, selected students will then present their ideas and discuss them with experts.
Move-On and the future of mobility
The game Move-On, designed by the SCN, paves the way for students to explore the theme of future mobility. Move-On focuses on everyday situations and personal experiences of the pupils, who will be eight to ten around one table with one person to explain. The game consists of a board, figures and property cards, which are to be considered when developing the means of transport. The future models of mobility will be developed using these elements. Issues such as security, alternative forms of energy, data exchange are at the centre of the discussion that will be conducted during the game.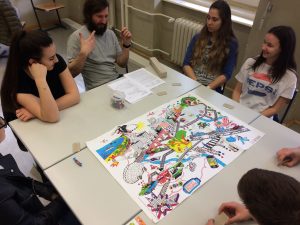 TRA team on tour at a workshop
The TRA 2018 team attended a workshop and observed the students discussing and developing their work. The students presented their designs, which ranged from "non-vegan roller skates" to a "smart car" to a "flying cart". For each of the designs, the students had thought about driver rights, disadvantaged user groups such as blind and deaf people or even the elderly, as well as recycled materials to be used to build the means of transport. With the exception of one design, all the concepts aimed at people controlling the vehicle. Autonomous driving and safety aspects were not discussed by the students during their presentation of the designs and the focus was clearly on the car as a means of transport. The pupils were aware of the scarce parking situation in cities – so several designs could be dismantled or collapsed to save space, but also expandable to create additional seating and storage space in the vehicle, depending on the occasion.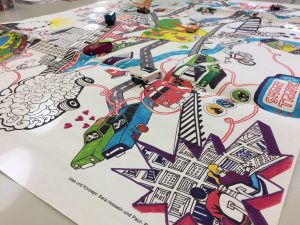 We are impatient to see which ideas for the mobility of the future will be presented and discussed with experts on the stage of the Interactive Zone at TRA 2018 (Tuesday, April 17th, 10:30-12:00).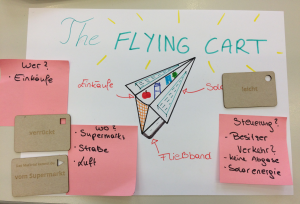 Last updated : 20/03/2018