When TRA meets TRB
From 7 to 11 January 2018 the Transportation Research Board TRB 97th Annual Meeting took place in Washington, D.C. The team of Transport Research Arena TRA used this framework and was on tour to promote the upcoming largest transport research conference in Europe which will happen from 16 to 19 April 2018 in Vienna.
Beside some other activities two TRA2018 tickets were sponsored and given away at the event EU-U.S. Transportation Research Match-making Reception. In cooperation with the TRB Standing Committee on International Cooperation, this event was organised by BILAT USA 4.0 Project, National Council of University Research Administrators (NCURA), and Georgia Tech Research Corporation (GTRC) on Tuesday, January 9, 2017.
This match-making reception was intended to help researchers and their research administrators to establish a new partnership and/or to strengthen existing partnerships for transportation-related topics. NCURA an Georgia Tech sponsored two tickets for the TRA2018 for two partners, one from Europe and one from the US, for their idea or project to a transport-related topic. Michaela Topolnik from AustriaTech drew the two winners. Participants had to have a research topic in mind and were looking for a global collaborator. Aim of this reception was to find your next transportation research project partners.
Winner: Margaret Isabel Cabrita Marques Coelho assistant professor TEMA research group coordinator, universidade de aveiro /Portugal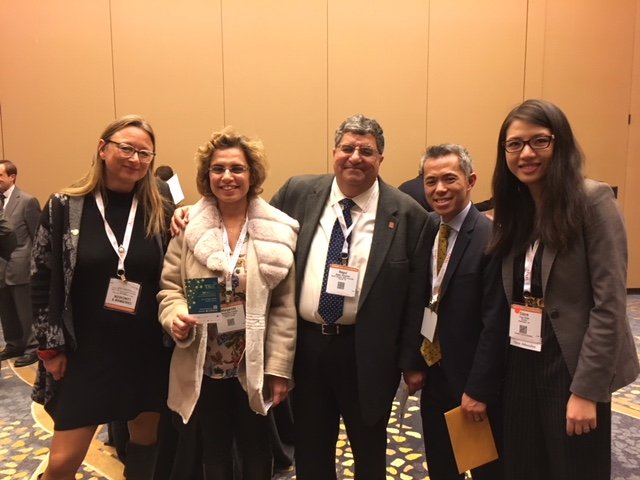 Foto: Michaela Topolnik (AustriaTech), Margaret Isabel Cabrita Marques Coelho (universidade de aveiro/TEMA, Portugal), Nagui Rouphail (North Carolina State Univ. Raleigh, NC), Jesse Szeto (NCURA), Claire Chen (NCURA)
Last updated : 29/01/2018