TRA2018 had a particular focus on women
Since women are still strongly underrepresented in the mobility sector (around 22% in Europe), measures are being taken at national,  European (eg declaration) and international level ("Women's Issues in Transportation" as a politically important network in the USA). In the meantime, gender-relevant measures are being taken in many conferences to increase the visibility of female experts, facilitate the exchange of information/experience through specific network options and address gender-specific issues.

The Austrian organisers of TRA2018 wanted above all to continue this "tradition" and take measures to make women in their professional opportunities and achievements visible. For this purpose, the following measures have been implemented.
Signing of the declaration for equal opportunities for women and men by the Austrian TRA partners

The signature of the declaration on equal opportunities by the Austrian TRA partners supports the initiative launched by EU Commissioner Bulc in the autumn of 2017 to promote equal opportunities for women and men in transport. Fortunately, 17 companies agreed to jointly sign this declaration in the presence of the European Commissioner Bulc and Norbert Hofer, Federal Minister for Transport, Innovation and Technology, thereby taking measures to increase the proportion of women and career opportunities in this sector. The companies whose representatives signed the declaration represent around 80,000 employees – ÖBB, ASFINAG, via Danube, SCHIG, AustroControl, RTA, AVL, Kapsch, Klaska, AIT, Joanneum Research, Salzburg Research, Vienna Harbour and many more.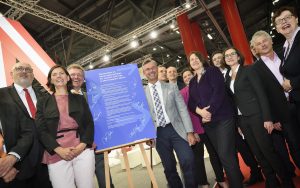 Invited S

ession about "Digitalisation – Opportunities for Start-ups?!" on Tuesday 17 April 2018
This session discussed the question why so few women are represented in Start-Ups. Within this framework, the study commissioned by the Federal Ministry for Transport, Innovation and Technology and carried out by the Austrian Institute for Technology (AIT) entitled "Job profiles and opportunities for employment in an automated and digitized mobility sector 2040" was presented and discussed. The very high proportion of male participants in this session was striking. There were about 100 participants in total, although only the question of what can be done to motivate and support founders was discussed. The panellists included, among others, an international and Austrian founder and a representative of the European Commission. The session was moderated by WIMEN club supporter Susanne Wolf-Eberl and the panellists included:
Madi Sharma, European Economics and Social Committe, rapporteur Women in Transport, a founder and expert in this field

Maja Bacran, Deputy Director General European Commission

Katja Schechtner, International Transport Forum, OECD

Sarah Krautsack,

Federal Minister for Transport, Innovation and Technology

Karl-Heinz Leitner, AIT

Tanja Sternbauer, Startup Live GmbH
Austrian Competence Corner

In the Austrian Competence Corner, research projects with gender relevance were featured such as "play UC! Playing with urban complexity, Mobility Safari Vienna" presented by WIMEN member Martina Jauschnegg, as well as "Gendered Mobility Patterns of Careers in Austria" by WIMEN member Bente Knoll and colleague Birgit Hofleitner and a project by tbw research from WIMEN members Angela Muth and Marlene Hawelka. The women's logistics network was presented by the Managing Director of the Vienna Harbour, Doris Pulker-Rohrhofer.
Pioneers of mobility/performance
The Pioneers of Mobility exhibition has been expanded to include two pioneers, Heddy Lamarr, the inventor of the frequency hopping technique, and Mary Anderson, the inventor of the windshield wiper.
To warm people up to the Women's Reception, Anita Zieher gave a performance as Heddy Lamarr, the Viennese pioneer known only to many as a Hollywood actress and not an inventor.  Zieher presented the actress and described how she came to invention and patent application. It was only after the expiration of the patent that her invention was used by the American military.
In the subsequent Women Reception entitled "Let's network! Focusing on creating sustainable, successful networks for women", the 100 women present discussed with representatives of various networks, such as the US Women's Issues in Transportation network, a representative of Commissioner Bulc, the young network Sorority and WIMEN.

The Reception first greeted the hosts of the reception Evelinde Grassegger from the Federal Minister for Transport, Innovation and Technology and Theresia Vogel from KLIEN. The discussion included:

Elisabeth Kotthaus, EC, DG Head of Mobility and Transport, Social Aspects, Passenger Rights & Equal Opportunities,

Asa Vagland, Women's Issues in Transportation,

Martina Schöggl, Network Sorority

Susanne Wolf-Eberl, network and association WIMEN.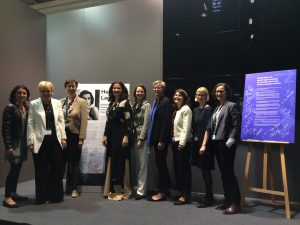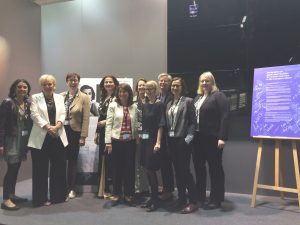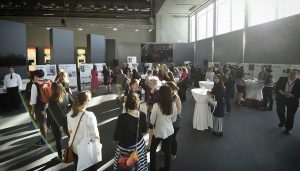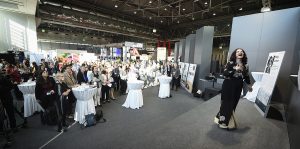 © Zinner / AustriaTech
Schools meets transport research
Various activities took place in advance of and during TRA2018 to not only make women and their achievements visible at the conference, but also to interest the next generation to mobility and transport research.
At five Viennese grammar schools, workshops were held in advance of TRA2018, in the framework of which pupils were to outline a means of transport for the mobility of the future. During the conference, 120 students presented their solutions and discussed them with national and international experts in mobility research.  The experts were:
Karin Tausz, Swiss Railways
Robert Missen, EC, Head of Transport Research
Arno Klamminger, AIT
The proportion of women at TRA 2018 was approximately 27%, which was better than the previous TRA's but still far away from a proper gender balance according to the demographic trend.
Last updated : 04/06/2018