With "On Track" we want to present you another thematic field in the TRA Interactive Zone!
Rail transport is an attractive and reliable transport mode and represents an integrated part of the overall multimodal mobility system on an international level. In order to ensure the competitiveness of the rail sector in an efficient, safe and eco-friendly transport system, innovation and agility are increasingly important aspects for both passengers and freight railway services. The fields of action cover the whole value chain from material and manufacturing over more efficient use of rail infrastructure to innovative end user information.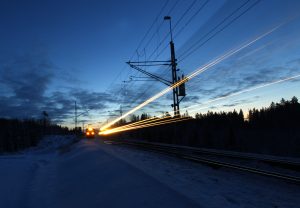 © VTI
To also represent these developments in the Interactive Zone, we are happy to introduce to you or showcases in the thematic area "On Track":
The "VTI Train simulator" – as a result of the collaboration between train operators, train educators and VTI – offers affordable, cost efficient and quality improving simulator-based training and creates realistic driving experiences and enable studies on the effect of the driver's condition and driver support systems on driving performance.
With "Digital Innovation at ÖBB" the ÖBB presents software to detect emotion through facial expressions, which can be used in the driver's cabin in trains.
"ÖBB Open Innovation" shows the process of the involvement of internal and external viewpoints in the development of new products and services through the presentation of the Open Innovation challenge "Find Your Seat".
The app Wegfinder – presented in the showcase " Smart Travelling" – allows users to effortlessly combine public transport, car/bike-sharing, taxi, Uber, car, bike and travel busses, provides users with the best multi-/intermodal routes and also enables them to purchase tickets via a chatbot within the app.
The showcase "Green Mobility" shows measures in the rail sector that can play a key role in reducing CO2 emissions from transport.
With "Connected Transport" the ÖBB shows measures for modern train protection and control systems which allow permanent surveillance and automatization of operational actions.
Don't forget to register for the Transport Research Arena 2018 and visit us in the Interactive Zone! All showcases of the six thematic fields you can see in the showcase list.
Last updated : 22/03/2018