ITS Vienna Region became a bronze sponsor partner
ITS Vienna Region is the competence center for Intelligent Transport Systems (ITS) and became now a bronze sponsor partner of the Transport Research Arena (TRA) 2018. It was founded by the three Austrian provinces Vienna, Lower Austria and Burgenland in 2006. These three provinces finance the project and define the work programme. With more than 15 experts ITS Vienna Region is part of the Verkehrsverbund Ost-Region VOR. ITS Vienna Region collects traffic data and processes them to be used as a basis for traffic management, e-government and traffic services. For the general transport user ITS Vienna Region operates traffic information services such as AnachB. Furthermore ITS Vienna Region takes on tasks from VOR in project management, tendering, development and operation and is involved in several research projects and boards. ITS Vienna Region is founding partner of the nationwide Austrian ITS projects Traffic Information Austria VAO, Graph Integration Platform GIP and basemap.
We talked to Hans Fiby, Head of ITS Vienna Region:
Why does ITS Vienna Region support TRA 2018 as an official bronze sponsor?
Research, development and innovation have been key competences for ITS Vienna Region from the beginning in the year 2006. ITS Vienna Region is a partner within a network of experts in public authorities, companies, research and innovation. TRA is an important science event for presenting ITS Vienna Region research results.
What does A Digital Era for Transport means to you?
Smart devices, intermodal routing services, real time data, e-mobility, sharing concepts and mobility as a service open up entirely new possibilities for traffic operators, service providers and daily transport users. Public authorities must control and manage traffic in new ways. New forms of cooperation among public, scientific and commercial actors will be necessary.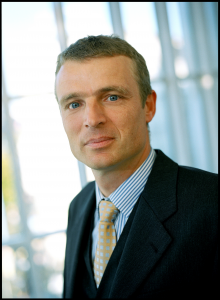 Get more information about ITS Vienna Region!
Have a look at all sponsors of TRA 2018!
Last updated : 09/11/2017